Dolphin Encounter (Non-Swim) Age 1+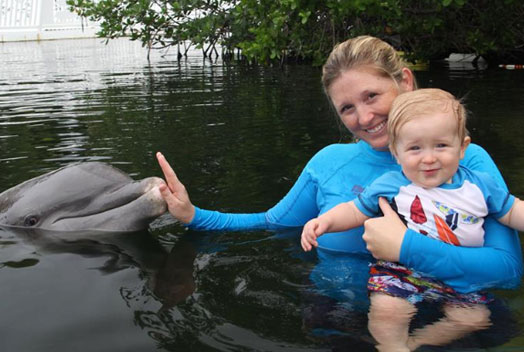 Dolphin Encounter (Non-Swim)
Age 1+
---
Important advice to dolphin lovers: book early… there are a lot of you out there. Reservation in advance is a must with a Master Card, Visa, American Express, Discover, Paypal, ApplePay or Bitcoin. No Walk In reservations!
BOOK NOW HIGH SEASON – $185
---
Promotion Code Discounts Available
High Season Dates: Add $20 per Participant During These Dates! 
February 12 – February 20, March 19 – April 24, June 11 – August 21, November 19 – November 27, December 17 – January 8, 2023 < more >
BOOK NOW LOW SEASON – $175
---
Dolphin Encounter Adult (8 years old +)
$175**
Dolphin Encounter Child (1-7 years old)
$175**
Adult Observer (10 years +)
$45*
Child Observer (3 – 9 years old)
$30*
Baby Observer (0-2 years old)
FREE
*Plus 7.5% sales tax
**HIGH SEASON RATE is from December 21, 2020 to January 10, February 12 – February 20, March 19 – April 24, June 11 – August 21, November 19 – November 27, December 17 – January 8, 2023
$10 Added per Person during High Season

Florida Keys / Islamorada
---
Your Florida Keys Dolphin Encounter/WADE program is an educational and entertaining swim with the dolphins program which takes places in a natural salt water lagoon, and have a chance to get up close and personal with a dolphin. Watch, touch, hug and play with the dolphins in this shallow water – non/swim marine adventure.
Details
---
Immerse yourself in shallow and safe water, the Florida Keys Dolphin Encounter/WADE program is perfect for non-swimmers and small children. With these exclusive activities, you'll have a chance to play with the dolphins and see marine animal shows/exhibits that will put a smile on anyone's face. Don your swimming gear and frolic in a low lying salt water lagoon and play with your new aquatic friend, the bottlenose dolphin. You will have a chance to relax and take time to enjoy all the wonders that this 17 acre park in Islamorada has to offer you.
Inclusions:
A 15-20 minute educational presentation prior to entering the water with the dolphins.
A 30 minute shallow (non-swim) water experience including touching, playing, holding kissing and training with a dolphin.
Personal photo opportunities with a dolphin to purchase at the photo lab after your Dolphin program.
A wetsuit rental and free life jackets can be provided for use during the dolphin session.
Guests should bring their own bathing suits and towels.
Lockers, Showers, and Changing rooms available.
Each Dolphin session is unique, based upon the guests and dolphins.
This is a 3 – 4 hour of Activities, with Dolphin Encounter, and Shows/Exhibits/Boat Ride/& Beach, check in either 10am or 1pm.
Observer gets to watch the dolphin interaction & shows/exhibits/boat ride/& beach use.
All Participants must be 1 years old and up
Anyone within 1 – 7 years old, must have a paid Adult participant. An Adult is anyone 18 years or older.
Must be able to understand directions given in English or have a paid family member or friend in the water to translate.
6 participants maximum per dolphin session. (which can be broken into smaller groups).
Open 365 Days a Year
< More Photos >
Available:
The time slots available includes a guaranteed 30 minute dolphin program, educational briefing, dolphin shows, sea lion show, & marine park tours. This is a 1/2 day of activities.
10am (Note: This session may have less people than the afternoon)
1pm
Location:
The Dolphin Facility is in the Florida Keys and on Islamorada, which is one of the major island in the Upper Keys, next to Key Largo. You will get complete written directions with your online ticket.  <Click Here for a Map of Area>
Video:
Click this Video to see all that get with your Dolphin Encounter / WADE program:

Note:
Driving Times: These times are approximate from the location listed below to Key Largo area, depending on traffic and weather conditions. Click the Map of the Area link above to get exact driving time from your hotel or residence.
Key West – 2 hours
Marathon – 40 minutes / 1 hour
Miami Beach & South Beach – 1 1/2 hours
Miami Cruise Ship Port – 1 1/2 hours
Miami Airport – 1 hour
Fort Lauderdale Area – 2 hours
Naples/Marco Island – 3 1/2 hours
You Need to Provide Your Own Transportation
Uber / Lyft, from Miami Beach to Islamorada approximately $100 to $125 each way. 4 persons
Private Taxi from Miami Beach to Islamorada approximately $200 to $225 each way. 4 persons.
Uber / Lyft from Ft Lauderdale Beach to Islamorada approximately $125 to $150 each way. 4 persons.
Private Taxi from Ft Lauderdale Beach to Islamorada approximately $260 to $300 each way. 4 persons.
Private Taxi from Key West to Islamorada approximately $70 to $100 each way. 4 persons.
Online Discounts
---
Save Money and make your reservation online. In order to get any of these discounts, you must type the Online Discount Promotional Code in the discount code box of the reservation form, page 2. These online promotions can not be combined with any previous orders or discounts. These discounts are for online orders only and the discounts will NOT be offered or honored over the phone with a Dolphin World representative.
Dolphin World Online Promotions:
Make your reservation online in advance and get 2.5% off each participant. CODE: flakeysbookingspecial
Get 5% off if you make your reservation 7 days or more in advance, CODE: online5%off
NO DISCOUNTS DURING HIGH SEASON!! December 24, 2018 – January 7, 2019
Redemption Instructions
---
Upon arrival, please proceed to check-in window, present your dolphin program confirmation number or your electronic voucher, which you will receive after making your reservation. You will get a an Email and Text Ticket sent to you once you make a reservation.
Confirmation number is a must for entrance.
You do not need to have a printed voucher.
All customers/participants are required to sign liability waivers before participating in this activity.
Terms and Conditions
---
Florida Keys Dolphin Encounter (non-swim) :
All Participants must be 1 year old and up.
Anyone within 1 – 7 years old, must have a paid Adult (parent or legal guardian) participant.
Must be able to understand directions given in English or have a paid family member or friend in the water to translate.
This program is not available to expectant mothers.
If the participating adult is not the parent or legal guardian of the child, then a Child Care Authorization form needs to be filled out.
Refunds / Cancellations and Changes:
All cancellations must be received by Dolphin World / Keys Adventure Tours, Inc. in writing by email or regular mail.
A 10% service charge will apply per person for any cancellations prior 31 days of activity date.
A 50% service charge will apply per person for any cancellations within 30 – 15 day period prior activity date.
A 75% service charge will apply per person for any cancellations within 14 – 8 day period prior activity date.
Prior 8 days of your reservation date, you may change your reservation to a gift certificate, where you would not incur any penalties except the change fee. This gift certificate will be good for 1 year from the date of the certificate.
NO REFUND WILL BE GIVEN TO ANY ACTIVITY PARTICIPANTS who cancel within the 7 day period, does not show up, are late for scheduled program(s). Once a reservation has been made, a change to the scheduled program date is subject to availability. Changes made to existing reservations are subject to a $25.00 per person change fee.
WE STRONGLY RECOMMEND THE PURCHASE OF TRIP INSURANCE, which will cover your purchase 100% for any interruptions to your Dolphin World activities! We recommend TravelEx Insurance. Ask a Dolphin World Travel professional for advice on Travel Insurance. < more information >
Frequently Asked Questions
---
Does your program go on Rain or Shine?
Yes, this program goes on Rain or Shine. The dolphin swim and shows, will go on most of the time. If there is thunder, there might be a delay before the program resumes again. If there are officially named tropical storms or hurricane, you may reschedule for another date without any change fee or get a gift certificate for 2 years to come back again.
What does it mean to be an Observer?
An Observer is a Participant's friend or family member. Observers participate in all aspects of the program minus the in-water interaction. During the interaction you can cheer on the Participants and take photos. The Observers stay in the stands and have no contact with the dolphins. The fee includes complimentary admission to the park, so you can see the rest of the shows and exhibits, as well. Observers under 10 years old must be accompanied by an adult.
What should I bring?
A bathing suit or swimming attire is required. You can rely on us to provide the following: Showers, lockers(refundable deposit), and wetsuits. Wetsuits can be rented. All jewelry must be removed prior to entering the water.
What about taking photographs with the Dolphins during my session?
Yes, there are professional staff photographers taking photographs or video of you and your dolphin session. You can purchase these photographs after your session. Prices ranges from $40 and up, depending on how many photographs you purchase. You can not take a regular camera into the water with you during your dolphin session. If you do have a family or a friend come with you as an observer, they can take photographs of you during your session. Hint: If you don't have an observer in your group, you might ask another observer from another group to take a few photographs with your camera.
What kind of pools do the animals live in at the Dolphin facility?
The animals live in natural salt-water lagoons. The water is pumped in from the Atlantic Ocean.
How big is the lagoon?
The lagoon is three acres in size with an average depth of 15 to 20 feet. The rest of the property is about 17 acres in size and rich with tropical foliage and orchids.
Do you have a restaurant on the property?
A snack bar/grill is available and serves a variety of delicious foods at the dolphin facility.
Can I bring my own masks fins and snorkels?
Yes you can to use during your dolphin program and private facility beach. Water shoes may be worn instead of fins for parts of the ray and sea lion swim, but we do not provide these so bring your own.
Do we have to pay extra entrance and parking fees?
No. There are no extra entrance or parking fees when snorkeling or the dolphin program.
Can handicapped individuals participate?
While this dolphin program does accept handicapped individuals, this program is not a Dolphin Therapy session. This program is primarily recreational. Those interested in a therapy program should consider other locations in the Florida Keys. Although accommodations for handicapped individuals can be arranged, they will not receive special treatments such as extended time or more interactions. If a handicapped individual is to participate, this circumstance will be handled on a case-by-case basis.
Are glasses/contacts permitted in the water?
Contact lenses can be worn. Prescription glasses with clear lenses will be permitted only if they are needed but they cannot be removed at anytime (including for pictures) during the session. Glasses with dark lenses are not permitted unless the individual is sensitive to sunlight, in which case a doctor's letter will need to be necessary.
Other Programs in the Florida Keys Area
---
At Dolphin World / Keys Adventure Tours we do offer other activities options while in South Florida/Florida Keys. Please contact your Dolphin World specialist to see if any are good for you.
DOLPHIN MEET AND GREET – Key Largo Area – A chance to spend 20 minutes out of the water and pet, play and do tricks with the dolphin. [ Learn More ]
SEA LION SWIM – Key Largo Area – Spend 30 minutes with the sea lion where you get to play, kiss and swim with the them in deep water. [ Learn More ]
WILD DOLPHIN ENCOUNTER WORKSHOP – Key West Area – 4 Hour Wild Bottlenose Dolphins viewing and snorkel trip. [ Learn More ]